The Girls Project is a Non-Government Organization

We are a small registered non profit organization with limited resources of funds, we are working hardly with our own funds which are from our pockets. The Street Girls Project was been created two years ago by a group of six experienced volunteers and 5 peer educators. And we do not have any sponsor. We are working at our own.


Primary Projects :

We are a Christian children home specializing in children that are the victims of the aids virus, malaria, abandoned, orphaned and starving. These children are the discard of humanity. They make up a tiny fraction of the over 2 millions orphan children only in Lusaka. We have 75 children at the present time under Girls Project care, all are aged between 2 to 16 years old.

In addition we have a community outreach program, literacy, adults vocational trainings. We have a fellowship with about 250-300 kids and parents. Saturdays , Sundays and holidays. We strive to open the doors of the world to the youth in this community and their parents extended families. The education for these children is very important and must to draw our attention as if these children are to become viable adults in their world and could be help themselves, their relatives , friends and neighbours in the society to succeed and move forward.
We are helping the neediest orphans in rural areas of Zambia be cared for and educated, particularly in Lusaka where the AIDS epidemic is causing large numbers of children to be orphaned. Our organisation pay school fees for these children, we give a one time grant of US$250 to each family looking after these orphans and we provide credit and savings (Micro credit Scheme) to all communities we operate in. A total of 400 people are benefiting. In addition we wish to provide computer skills training to Youths (over 50).

Counselling people who have affected by HIV/AIDS pandemic through Lusaka the capital City of the republic of Zambia and in providing for them with some preventive measures like to single ladies and single men and married couples as well. Thus, the whole society could be not prevented by event.

In prevention:


About 211 girls are in prevention as many girls are now victimized by the men who have already affected by the ill. About 46 women come periodically and men as well.
We support indigenous volunteer health professionals who have a vision to reach their own people . Our focus in community health-teaching people how to prevent disease and equipping people to care for themselves, their families and their community as well.
Saturdays, Sundays and public holidays we got public prevention speeches through theatre group.


In Treatment:
The Girls Project keeps physicians and clients informed about the significance of HIV Variance and Early HIV intervention. Our mission is to provide clients with cultural interpretation and one-on-one escorts to testing and treatment sites.
Zambia has been declared the world Capital City of HIV/AIDS because of the high rate of diseases . We have more than 678 people who are come daily for their counselling and treatments but because also of lack of medicines and adequate equipments. We are facing severe difficulties.
Target Community:

Our target group is based in two categories:
1) we are concerned about orphaned and abandoned children whom their parents have died because of HIV/Aids.
2) Target also is based especially on girls aged 14 to 18 years and we are dealing with adults of both sex.

The Street Girls project's wish is to be patterned by your organization in order to be helpful in many ways such as, medicines, equipments, funds etc.. any kind of assistance form your organization, will be greatly appreciated.

Your assistance in helping this organization to accomplish its goals will demonstrate your commitment to support the struggle for re-establishment of Children's rights and stability as far as their lives are concerned.

Our Team
The folowing list are the names of the people who run our organization.
Audreille Dimwangala, Raymond Tshabumana, Isabelle Yabu, Mb Masita, Mboko Moke, Lumboko Mesongo, Elie Kayembe Lwamba, Gilbert Tshamala, Benjamin Luboya, James Banda, Godfrey Phiri, Elijah Mwape.
Girls Project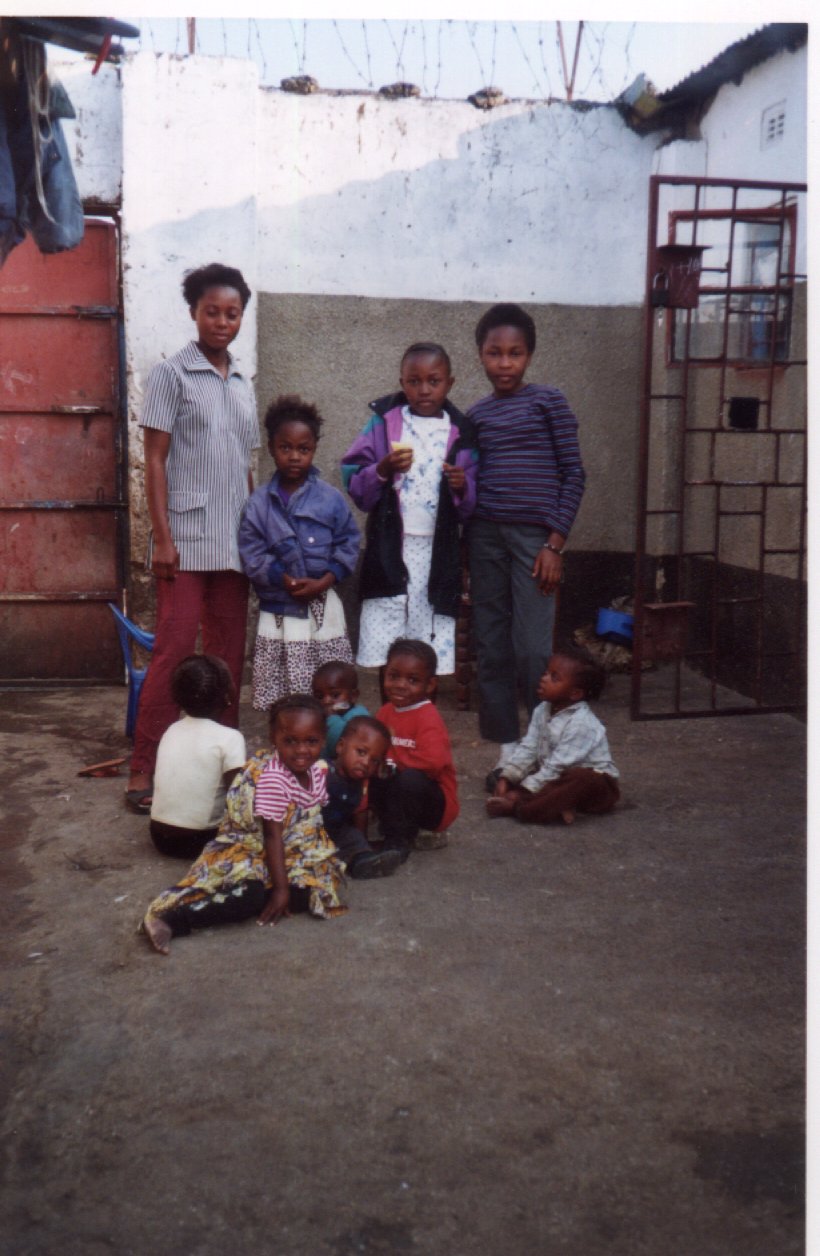 Audreille Dimwangala is our project co-ordinator. She loves the children and likes to care for them in "Mundawanga" National Park.




Our Programs and Services
We are offering programs and services such as:

* - Recuperation of orphaned children whom are victimized by AIDs,

* - Bringing them up,

* - Give them formal education and vocational training,

* - Councelling

* - Prevention against HIV/Aids,

* - Treatment,

* - Food,

* - Clothings,

* - School fees,

* - Computer courses

* - Loan to some families